Many tears animal rescue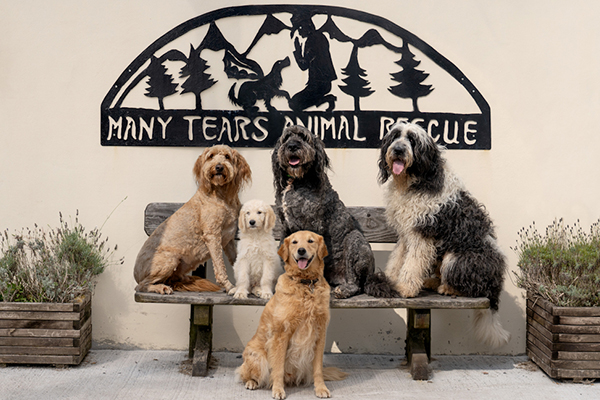 Rescuing is a promise
Many Tears is based in Carmarthenshire, Wales, but they have foster homes dotted throughout the UK, allowing them to help as many dogs as possible. They primarily take in and rehome ex-breeding dogs who are no longer 'required', those who are on death-row in the pound, those whose owners are no longer able to keep or care for them and when they have space, they rescue overseas.
Leaps and bounds
The rescue has grown leaps and bounds since it opened in 2004 and now homes in excess of 3,000 dogs per year. However, before they can go to their new homes, they experience a special loving environment, and any required medical care from the staff, fosterers and volunteers to help them adapt and find their new family.
Our contribution
We have a home for everyone at the home of the range; whether it's a cheeky Corgi (like our Annie) or a gentle giant, Irish Wolfhound. Simply put we love all dogs… (and cats)! That's why we're so excited to partner with the amazing, Many Tears animal rescue as their sole food provider.

As their partner food brand, we provide all the dogs in their care, whether living in the kennels or those that need a little more support and are placed in foster homes. What's more, each dog that gets rehomed from them receives a special Arden Grange adoption pack, containing food and branded goodies to help them settle into their 'furever' homes!


The pawsome pups at the rescue enjoy
How you can help
Even the smallest donation could help change a suffering animal's life. Please make a contribution via Many Tears' website today and support this fantastic charity to continue its work.
Happy ever after is place to call your own
Many Tears animal rescue works so hard to find each dog in need a place to call their own, so hearing how the dogs are getting on brings a smile to everyone's' face. Here are some of our favourites…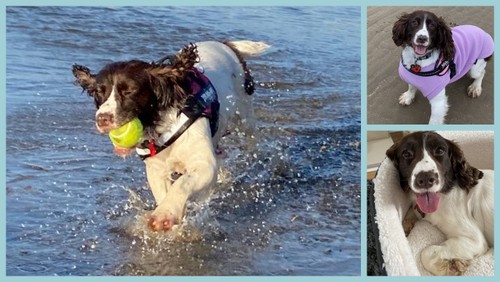 Perfect Poppy (was Asti)
Hi everyone at Many Tears A quick update on our beautiful girl Poppy (was Asti) who we adopted from you in October. She's our second rescue from Many Tears but the first ex breeding dog we've had and she's been wonderful. She house trained really quickly and loves being a 'good girl' which has made her basic training much easier. As we live in Porthcawl she gets to run on the beach most days which she absolutely loves and is obsessed with her tennis ball. She also loves finding any pools of water or mud she can jump into! She's slowly getting more confident with other people and is starting to enjoy visiting some local cafes, especially if there's a pupuccino on offer! We're working on her lead walking (she bunny hops when she's excited!) and we're planning our first trip away with her to West Wales before Easter. With thanks for the care you've given Poppy and all your other doggies, from the Jones family x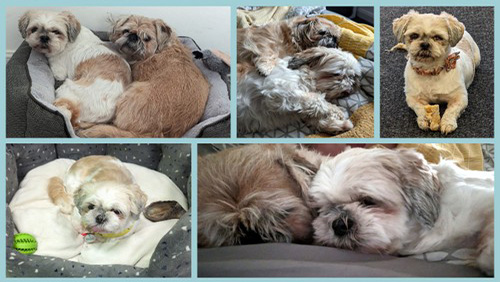 Pretty Penny (was Snickers)
Hello Many Tears, I wanted to email in for ages and to tell you about our experience. In September 2022 we made the best decision to adopt then Snickers Now Penny. When Penny first arrived was very shy, timid and reserved but this could not be any further from the truth now. She is in loving, playful and some what bossy and we LOVE IT. We absolutely adore her and could not imagine our lives without her! She absolutely adores our other dog Spartacus. They are thick as thieves, love each other very much and great playmates running around the house. Her favourite things to do is going for walks out, cuddles with us and Spartacus, playing with all her toys, having her butternut dinners (Nom) and lording it up in bed! It really was the best decision and she has given Spartacus new lease of life. I love how much she has fitted into our lives like she was always meant to be there. Thank you for choosing us! Lots of love and puppy dog wags From Erin, Luke and Spartacus.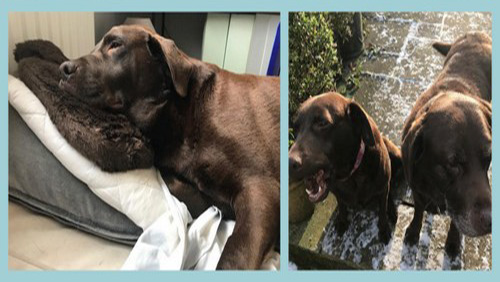 Fabulous Fig (was Vary)
New Year, new life for a new dog. Fig (was Vary ex breeding dog) has come to live with me in Surrey with my other Many Tears Animal Rescue dog, Lemon. Lemon has been with me since August 2012 and we picked Fig up at the beginning of November 2022. It took us six hours to get home and they were as good as gold on the journey. Fig seems to be settling in with us nicely and is very attached to the day bed complete with pillow and furry hot water bottle. I have been lucky in more ways than one. She is a very quick learner and has the best recall you could wish for. In fact it could be too good as she almost takes me out because she travels so fast to get back to me! Lemon couldn't care less, but if there is a reward for Fig for the perfect recall, then she is there too. Fig's passport says she is six and came from Ireland and looks like she has had several litters of puppies, that is her history. Her future…. well that will be with me and Lemon, living her best life and forever life. Thank you to MTAR for letting me and Lemon adopt her. Susie Clibbon